Invest in Hope.
Invest in the Future.
Invest in Eden Grow Systems.
Eden Growing Systems (EGS), a NASA Spinoff, is commercializing a NASA technology that was developed for, and used on, the MIR Space Station to produce fresh food for the astronauts. Our aeroponic technology allows for growing food without soil, with systems that can grow food 22% faster, yield 35% higher harvests, and offer a 143% increase in annual output compared to hydroponic systems.  With increased demand for food world-wide, our mission is to provide food independence to local communities and beyond by empowering individuals, families, and businesses to innovate local food production that will allow them to easily grow their own food, wherever they live.

Investor Bonus Shares & Perks
Certain investors in this offering are eligible to receive additional shares of Common Stock (effectively a discount) for their shares purchased ("Bonus Shares") based on the amount of your investment.
Global Food Security Is in Jeopardy
With the global population expected to soar to 9.8 billion by 20501, feeding the world is becoming an increasingly daunting challenge. The devastating effects of climate change combined with an alarming dependence on a fragile and ecologically-damaging global supply chain leaves the future of our food hanging in the balance.
Competition for land and water between industrial and farming sectors is at an all-time high.
One third of all land is now classified as highly or moderately degraded and unsuitable for sustainable farming.2
Decentralized food networks offset many practical elements of the food crisis challenge and help remedy the ravages of carbon emissions from farming and industry.
1 Source: UN Department of Economic and Social Affairs Article    2 Source: Yale Climate Connections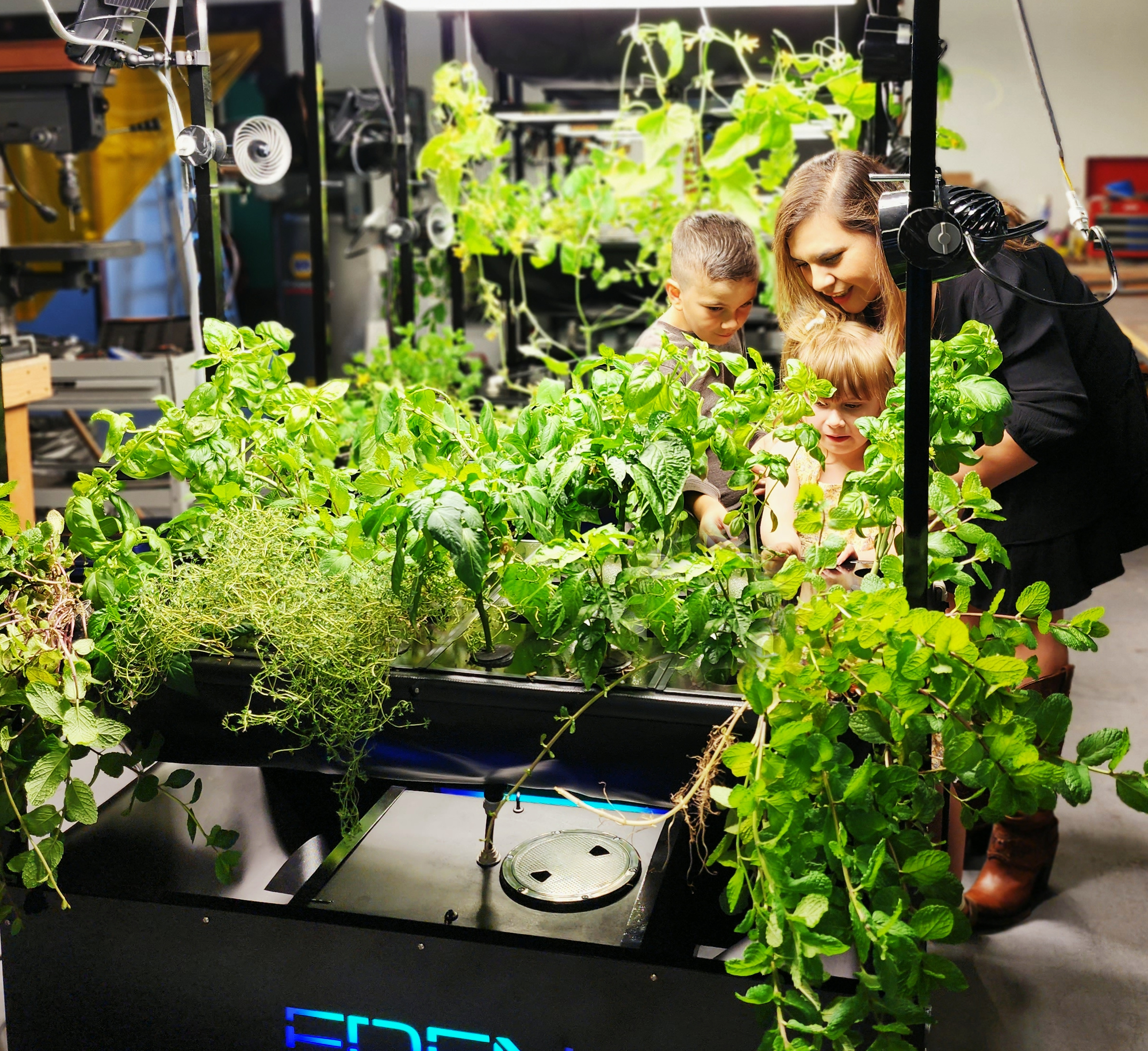 Growing Demand for Grow Solutions
Gardening and Individual Farming Stats
Growing produce at home is steadily growing in popularity. 55% of American households engage in gardening activities. 67% are growing or planning to grow edible plants, including vegetables (52%), herbs (33%), and fruits (31%).

The global smart indoor garden market size is expected to reach $243.3M by 2030 and register a revenue CAGR of 8.2% during the forecast period.
We're Satisfying the Market Demand
Our grow towers can grow anything from leafy greens to cannabis and have incredible results. We see a 143% increase in annual output as compared to other hydroponic systems due to our advanced aeroponic technology. 
Source: Technavio, Nov. 2022 
Disclaimer: These are third-party projections, and there is no guarantee that the market will experience this type of growth.
Space-Age Farming Made Simple and Affordable
It's time to return the power and economic benefits of localized food supplies back to people and communities. Expertly designed by aerospace engineers to operate with unprecedented efficiency and virtually zero waste, Eden Grow Systems' modular farming towers use groundbreaking aeroponic technology to grow food in self-contained systems indoors, eliminating the need for soil or farmland. This space-efficient, cost-effective and hassle-free alternative is perfect for anyone and saves space, time and energy.

These are just a few of our major collaborators that are helping ensure we have the latest technology to facilitate food independence.
Texas A&M University
Genetic research in crops like potato, sweet potato, strawberry, and cannabis
North Dakota State University
Food and medicinal nutrition research
New Mexico State University
Feed The Future
Uses EGS in global human disaster relief and educational programs worldwide
NASA
Continues to coordinate and fund aeroponic research
Invest in helping grow the best plants for the betterment of humanity.
Our aeroponic technology allows plants to grow up to twice as fast as hydroponics, while using less water, less fertilizer, and zero pesticides. All this is driven and validated by a team of plant scientists in our world leading aeroponic research center.
Eden Grow Systems exists to make positive and lasting change that leaves no one behind. This is reflected in every choice we make, from the products we build and the partnerships we foster, to how we engage with people and our planet.
Don't take our word for it. The Kennedy Space Center, U.S. Air Force, Harvest for the Hungry, and a number of leading agricultural universities, such as Texas A&M and New Mexico State, are using our towers.
Advanced Aeroponic Technology
Compared to other growing systems, our advanced aeroponic technology puts us ahead by reducing time, water, energy, and nutrient needs. Eden Grow Systems are versatile, scalable, efficient, environmentally-conscious, cost-effective, and intuitively designed using NASA-derived science to make growing accessible and successful for anyone.
Grow Anything
Most extensive variety of grow options, including integrated protein generation for holistic food production
Grow Anything
Grow it all: cannabis, leafy greens, root vegetables, berries, microgreens, flowers, plant starters, and protein.
Grow More, Faster ​
22% accelerated growth
35% higher yields
143% increase in annual output
Grow More, Faster ​
Eden Grow Tower: 22% faster growth, 35% higher yields than hydroponics. With the Eden Standard™ Priority Grow Method, get 143% more annual output and up to 300% better space utilization compared to traditional gardening.

Grow Healthier
No pesticides, herbicides, or land degradation
Grow Healthier
Sustainability and health intertwine in our commitment to a healthier environment. Our grow towers are resource efficient and carbon negative, positively impacting the planet.

Save Water​
 98% less water compared to traditional agriculture
30% more efficient with nutrients


Save Water​
Aeroponic technology uses 98% less water than traditional growing methods and is 30% more efficient with nutrients than hydroponics.
Save Time
Requires only five minutes a day
Decreases human labor by 75%



Save Time
Our Automated Grow System only requires five minutes a day to grow year-round. We provide top-tier concierge support and resources to ensure that anyone can grow – not just experts or seasoned professionals.

Save Money
$0.85 cost per harvested plant
Save Money
With EGS, each harvested plant costs ~$0.85, while it costs ~$3.00 with our competitors.
With high-value crops like microgreens and cannabis, users can potentially pay off their system in less than 4 months.
Invest in Eden Technology
Large-scale indoor farming operations are failing because of increased costs in energy. At Eden Grow Systems, we address this by using the aeroponic technique, which is more energy efficient, and we've created a system that anyone, no matter their experience level, can use. Our system gives users full access to the entire spectrum of crops including root vegetables and berries. We believe technology shouldn't just be innovative, but value-giving and easily usable.
Built to last over 10 years, Eden Grow Systems is ready to meet the demands of the growing market with a sustainable solution.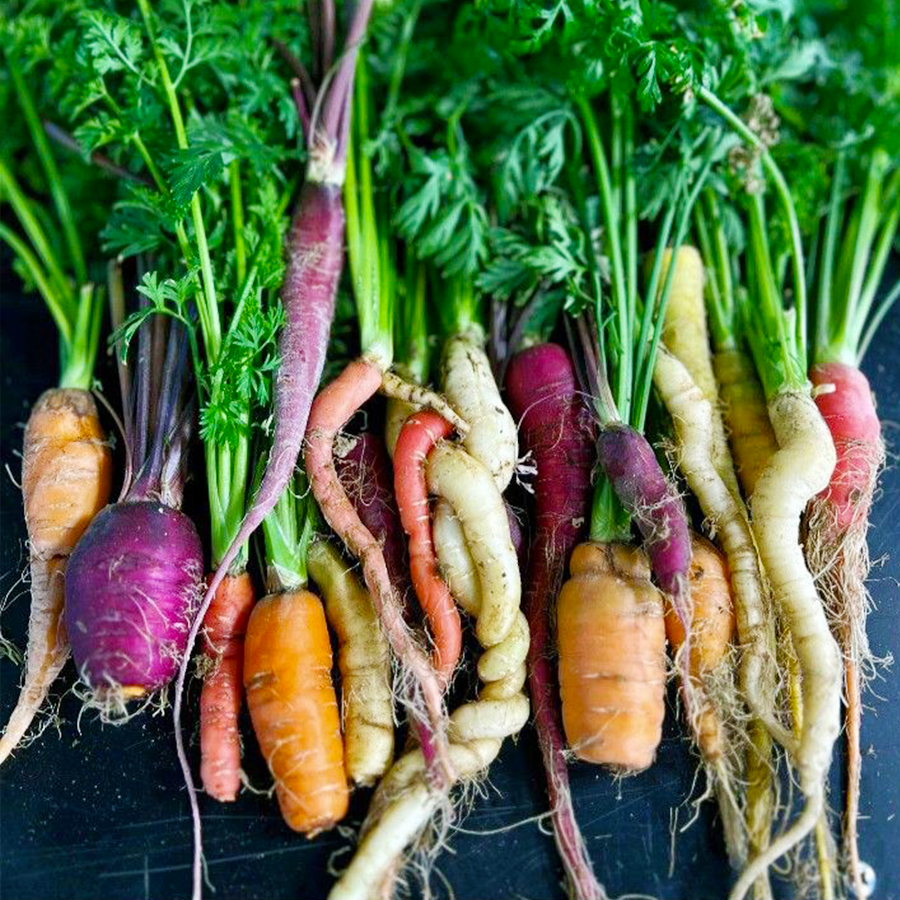 *Vegetable growth from an Eden Grow Tower System
Better Food, Better World
Invest in the Environment
Investor Bonus Shares & Perks
Certain investors in this offering are eligible to receive additional shares of Common Stock (effectively a discount) for their shares purchased ("Bonus Shares") based on the amount of your investment.
Frequently Asked Questions
Crowdfunding allows investors to support startups and early-growth companies that they are passionate about. This is different from helping a company raise money on Kickstarter. With Regulation CF Offerings, you aren't buying products or merch. You are buying a piece of a company and helping it grow.
What types of securities can I buy on this site?
The majority of offerings are common stock, though some companies may raise capital through convertible note, debt, and revenue share.
Investors other than accredited investors are limited in the amounts they are allowed to invest in all Regulation Crowdfunding offerings (on this site and elsewhere) over the course of a 12-month period: If either of an investor's annual income or net worth is less than $124,000, then the investor's investment limit $2,500, or 5 percent of the greater of the investor's annual income or net worth, whichever is greater. If both an investor's annual income and net worth are $124,000 or higher, then the investor's limit is 10 percent of the greater of their annual income or net worth, or $124,000 whichever is greater. Accredited investors are not limited in the amount they can invest.
How do I calculate my net worth?
Calculating net worth involves adding up all your assets and subtracting all your liabilities. The resulting sum is your net worth.
What are the implications of an equity crowdfunding investment?
We cannot give tax advice, and we encourage you to talk with your accountant or tax advisor before making an investment.
Who can invest in Regulation CF Offering?
Individuals over 18 years of age can invest. Currently however, Canadian citizens are not able to invest in Regulation CF offerings.
What do I need to know about early-stage investing? Are these investments risky?
Regulation CF Offerings are high risk opportunities and may not retain their value. Investing in startups and small businesses is inherently risky and standard company risk factors such as execution and strategy risk are often magnified at the early stages of a company. In the event that a company goes out of business, your ownership interest could lose all value. Furthermore, private investments in startup companies are illiquid instruments that typically take up to five and seven years (if ever) before an exit via acquisition, IPO, etc.
When will I get my investment back?
Companies conducting a Reg CF are privately held companies, and their shares are not traded on a public stock exchange. As a result, the shares cannot be easily traded or sold. As an investor in a private company, you typically receive a return on your investment under the following two scenarios: The company gets acquired by another company. The company goes public (makes an initial public offering on the NASDAQ, NYSE, or another exchange). In those instances, you receive your pro-rata share of the distributions that occur, in the case of acquisition, or you can sell your shares on the exchange. It can take 5-7 years (or longer) to see a distribution or trading, as it takes years to build companies. In many cases, there will not be any return as a result of business failure. Dalmore Group, LLC does not make investment recommendations, and no communication, through this website or in any other medium should be construed as a recommendation for any security offered on or off this investment platform. Investments in private placements and start-up investments in particular are speculative and involve a high degree of risk, and those investors who cannot afford to lose their entire investment should not invest in start-ups. Companies seeking startup investments tend to be in earlier stages of development, and their business model, products and services may not yet be fully developed, operational or tested in the public marketplace. There is no guarantee that the stated valuation and other terms are accurate or in agreement with the market or industry valuations. Additionally, investors on Regulation CF offerings will receive securities that are subject to holding period requirements. In the most sensible investment strategy for start-up investing, start-ups should only be part of your overall investment portfolio. Further, the start-up portion of your portfolio may include a balanced portfolio of different start-ups. Investments in startups are highly illiquid and those investors who cannot hold an investment for the long term (at least 5-7 years) should not invest.
Shares sold via Regulation Crowdfunding offerings have a one-year lockup period before those shares can be sold freely. Exceptions to limitations on selling shares during the one-year lock up are transfers:

-to the company that issued the securities;
-to an accredited investor;
-to a family member (defined as a child, stepchild, grandchild, parent, -stepparent, grandparent, spouse or spousal equivalent, sibling, mother-in-law, father-in-law, son-in-law, daughter-in-law, brother-in-law, or sister-in-law, including adoptive relationships.);
-in connection with your death or divorce or other similar circumstance;
What information does Dalmore collect relating to their offering?
The organization of the company Dalmore Group, LLC requires information that shows the issuer company has taken steps necessary to organize as a corporation or LLC in its state of organization, is in good standing, and that the securities being issued will be duly authorized and validly issued. 

The corporate structure and ownership Dalmore Group, LLC works with the issuer company to disclose its organizational structure, affiliated entities, and current capitalization.  

The people behind the company Dalmore Group, LLC helps the issuer company disclose who is behind the operations and strategy of the company, along with their previous related experience, and Bad Actor Reports to provide evidence that the company is not disqualified from proceeding with its offering.   

Information provided to investors Dalmore Group, LLC checks that the issuer company is providing clear disclosure of its financial situation, business origins, and operations, and legal authority to engage in its business activities.  

Investor information and terms of the offering Dalmore Group, LLC reviews for consistency each instance where the issuer company describes the offering terms, and identifies to investors how the issuer company reached its current valuation and will track and keep in touch with its security holders.  

Review of transaction documents Dalmore Group, LLC performs an independent review of transaction documents to check for red flags & conformance with stated terms.

Business due diligence Dalmore Group, LLC conducts research and due diligence on each company before it is able to accept investments on the platform.  Dalmore Group, LLC will typically conduct over 30-40 hours of due diligence per opportunity, which requires the satisfactory completion of a detailed set of individual questions and data requests.  Particular focus is paid to the following issues throughout the due diligence process:  Problem or inefficiency being addressed Product / service overview, stage of development and anticipated milestones Demonstrated traction (e.g. revenue, pre-sales, purchase orders, signed contracts, media coverage, awards, etc.) Data to support claims made in marketing materials (e.g. user / customer metrics, signed contracts and agreements, product demonstrations, etc.) Growth strategy Employees and advisors (including ownership structure) Addressable market (e.g. size, growth, penetration, etc.) Competitive landscape and industry dynamics Exit opportunities Intellectual property Historical financials Financial projections(including error-checking, evaluation of key assumptions and reconciliation to stated growth plan) Reference checks (e.g. previous investors, advisors, etc.) Investment overview (including determination of key terms, uses of funds, and current and previous investors) The findings of the foregoing review are presented to Dalmore Group, LLC, which may approve, reject, or require additional information for the offering. Upon approval and following the onboarding process, an offering can begin accepting investments online. General considerations Notwithstanding the foregoing, these investments are illiquid, risky and speculative and you may lose your entire investment.  The foregoing summarizes our standard process. However, each diligence review is tailored to the nature of the company, so the aforementioned process is not the same for every issuer. Completing the vetting process does NOT guarantee that the company has no outstanding issues or that problems will not arise in the future.  While the foregoing process is designed to identify material issues, there is no guarantee that there will not be errors, omissions, or oversights in the due diligence process or in the work of third-party vendors utilized by Dalmore Group, LLC. Each investor must conduct their own independent review of documentation and perform their own independent due diligence and should ask for any further information required to make an investment decision.
What happens if a company doesn't reach their funding goal?
If a company does not reach their minimum funding goal, all funds will be returned to the investors after the closing of their offering.
How can I learn more about a company offering?
All available financial information can be found on the offering pages for the company's Regulation Crowdfunding offering.
Can I cancel my investment?
You may cancel your investment at any time, for any reason until 48 hours prior to a closing occurring.  If you have already funded your investment and your funds are in escrow, your funds will be promptly refunded to you upon cancellation.  To submit a request to cancel your investment please email invest@edengrowsystems.com 
How can I contact someone at Eden Grow Systems?
If you have questions that have not been answered in the FAQ, please email our Investor Support Team at invest@edengrowsystems.com 
Invest in the Growing Need for Food Independence
With a growing market and increased demand for better quality food, Eden Grow Systems knows that food supply doesn't have to be tied to a supply chain any longer. With the EGS towers, anyone, anywhere, can grow their own food and control the quality without depending on corporations, government, or even the weather. The market is hungry, and EGS is ready to meet them.